Daddy-Long-Legs
- 1912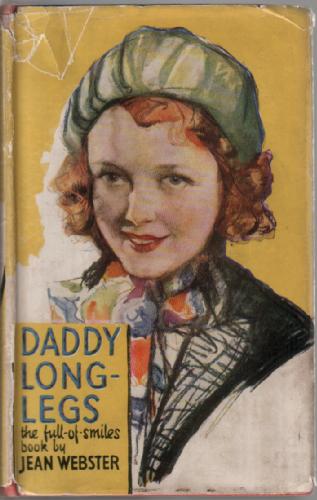 Jean Webster
185 pages
genre - General Fiction, Epistolary, Young Adult
my rating - 4 out of 5 stars
Jerusha Abbott is an orphan. She has lived her entire 18 years at the John Grier Home. Jerusha will tell you... "The first Wednesday in every month was a Perfectly Awful Day—a day to be awaited with dread, endured with courage and forgotten with haste." You see, that is the day that the Trustees of the orphan asylum come to inspect the premises and read reports.
Just as the day was ending, Jerusha is summoned to the matron's office. As she approaches the office, Jerusha notices a man leaving through the front door. "Jerusha caught only a fleeting impression of the man... He was waving his arm towards an automobile...[it's] glaring headlights threw his shadow sharply against the wall inside. The shadow pictured grotesquely elongated legs and arms that ran along the floor and up the wall of the corridor. It looked, for all the world, like a huge, wavering daddy-long-legs."
The matron has incredible news. The gentleman who just left has offered to pay for four years of college for Jerusha. The only stipulation being that she must write him a letter once a month. The rest of the book is the correspondence from Jerusha to Mr. Daddy-Long-Legs.
I especially enjoy the epistolary type of writing. It's like legally reading other people's mail. An epistolary novel tells its story through letters, journal entries, and these days, emails. Some examples are:
Dear Mr. Henshaw
,
Bridget Jones's Diary
,
The Screwtape Letters
,
Sorcery and Cecelia
(a favorite of mine) and the sequel to
Daddy-Long-Legs
,
Dear Enemy
.
About the author
-
Alice Jane Chandler Webster was born July 24, 1876 in Fredonia, New York. From 1894 to 1896, she attended the Lady Jane Grey School in Binghamton as a boarder. Since her roommate was also called Alice, the school asked if she could use another name. She chose "Jean", a variation on her middle name.
In 1897, Webster entered Vassar College. Majoring in English and economics, she took a course in welfare and penal reform and became interested in social issues. As part of the course she visited institutions for "delinquent and destitute children". Her experiences at Vassar provided material for some of her books.
In 1915, at the age of 39, Webster married Glenn Ford McKinney in a quiet ceremony. Jean entered the Sloan Hospital for Women, New York on the afternoon of June 10, 1916, giving birth to a daughter. All was well initially, but Jean became ill and died of childbirth fever at 7:30 am on June 11, 1916. Her daughter was named Jean (Little Jean) in her honor.