The Brass Bowl
- 1907
Louis Joseph Vance
137 pages
genre - Adventure
my rating - 4 out of 5 stars
The hero of the story is Daniel Maitland,"whose somewhat somber but sincere and whole-hearted participation in the wildest of conceivable escapades had earned him the affectionate regard of the younger set, together with the sobriquet of 'Mad Maitland'."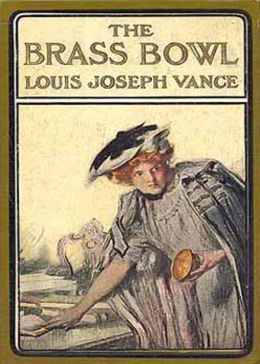 Dan and some friends have just arrived back in New York City after being gone for several weeks. The friends have planned out the activities for the evening, and Dan isn't thrilled. In fact, he knows it will be quite boring.
When Dan's friends drop him off at his apartment building, someone catches his eye - "a young and attractive woman coming out of a home for confirmed bachelors." And upstairs in his own flat, he finds a handprint on his dusty desk, just the size he would expect from that young and attractive woman's hand.
So begins a fantastic couple of days for Dan. He encounters burglars, pushes a car out a creek, engages in some fisticuffs, meets an imposter, lies to the police, speeds through the New York streets, hotwires an elevator and then gets in a shoot out. A cracking good time for "Mad Maitland'.
I thoroughly enjoyed this story. It would make an awesome movie. Hmmm, who would I cast as 'Handsome Dan' (as he was known during his college years)? In fact, it was made into a movie back in 1924. It's time for a new one. This one will have sound and be in color!
Amazon says its ebook is only 137 pages. I think it was much longer than that. The original hardback was 380 pages. It felt like what I read was around 250 pages.
About the author
-
Louis Joseph Vance was born in Washington, D. C. on September 19th, 1879. Vance was educated at Brooklyn Polytechnic Institute. He wrote short stories and verse after 1901, then composed many popular novels.
His character "Michael Lanyard", also known as "The Lone Wolf", was featured in eight books and 24 films between 1914 and 1949, and also appeared in radio and television series.
Vance was found dead in a burnt armchair inside his New York apartment on December 16th, 1933; a cigarette had ignited some benzene (used for cleaning his clothes or for his broken jaw) that he had on his body and he was intoxicated at the time. The death was ruled accidental.