Under the Liberty Tree
A Story of the "Boston Massacre" - 1896
James Otis
126 pages
genre - Historical Fiction, Young Adult
my rating - 2 out of 5 stars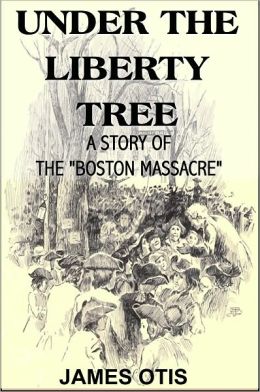 Sometimes the best way to learn about history is to read about the events in a fictional setting. I believe that is what the author intended to do with this book.
At the beginning of the story, a group of boys have gathered together to discuss the newest outrage. One of the shopkeepers "had failed to keep the promise not to import British goods...[he] has openly declared it was his intention to sell whatsoever he pleased."
The boys decide to erect an effigy in front of the store with a sign naming all the shopkeepers so far who have gone back on their promise. It is to be a warning.
Events quickly escalate, and the 'Bloody Massacre' or the 'State Street Massacre' occurs.
I would have given this book a 3-star rating, but the author changed the names of some of the real participants. Why would he do that?
Hardy Baker was really Edward Garrick
Chris Snyder was really Christopher Seider
Lt. Draper was really Captain-Lieutenant John Goldfinch
It makes me wonder what else was changed.
About the author
-
James Otis Kaler was born on March 19, 1848, in Winterport, Maine. He attended public schools, then got a job with the
Boston Journal
at 13, and three years later was providing coverage of the American Civil War. Later, he went on to work for various newspapers, superintendent at schools, and a publicity man at a circus.
In 1880 Kaler authored his first, and still most famous book,
Toby Tyler, or Ten Weeks with a Circus
, a story about an orphan who runs away to join the circus. Following the book's success he went on to author numerous other children's books, mostly historical and adventure novels.
Like most writers of his era, Kaler was astonishingly prolific, and a total of nearly 200 books by him have been identified. Most were signed with the Otis name, but he also used the pen names Walter Morris, Lt. James K. Orton, Harry Prentice, and Amy Prentice.
After spending several years in the southeastern states, he returned to Maine in 1898 to become the first superintendent of schools in South Portland. He married Amy L. Scamman on March 19 of that year, and they had two sons, Stephen and Otis.
Kaler died on December 11, 1912, in Portland, Maine.